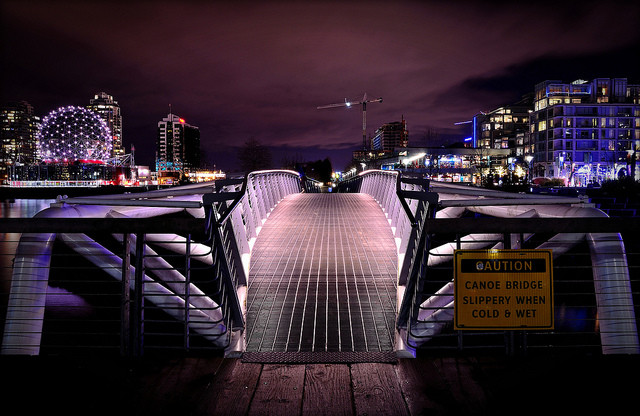 Canoe Bridge in Olympic Village crosses the waters of False Creek adjacent to the Tidal Amphitheatre. Since 2009 it has become one of the most photographed structures in Olympic Village False Creek. Designed by PWL Partnership Landscaped Architects the bridge incorporates the immediate surrounding environment. The decks closely spaced metal slats allows sunlight to pass through to the surrounding shoreline so that sunlight can reach the marine plants and animals.
The arched architectural design has a symbolic resemblance of a canoe. This symbolic theme is found in the outer structure of the ribbing of a canoe which was a vital part of life for the First Nations. When you stand back and look at the bridge from afar it really does take on the shape of one of our oldest forms of ocean travel. The sleek flowing outer structure is welcoming and pleasing to the eye. Its appeal is obvious; it is clear why it is not only one of our favorite photography icons – but also a great place to take a walk or bike ride (just be cautious in the rain as it does get slippery).
The canoe today is still such an important part of the False Creek Community. On any given day we can see outriggers, kayaks and dragon boats in the Creek. I highly recommended taking an afternoon off, rent a kayak at Ecomarine on Granville Island and paddle along the shoreline along the Creek. The neighbourhoods of False Creek, Olympic Village, Yaletown and Beach Avenue District take on a unique visual aspect from the water and you may encounter other neighbours, such as: resident beaver, river otters, harbour seals and a multitude of sea birds.
Canoe clubs in False Creek
There are two canoe clubs in False Creek that offer yearly memberships and fantastic programs to get you on the ocean:
Canoe paddling is another great outdoor activity to keep you in shape and meet new people. I have been a member of Vancouver Ocean Sports formerly Poque Sports since 2003 where I paddle an OC 1 (outrigger canoe single seat).
Please contact me if you would more information on where to join a canoe club in Vancouver.
Written by Don Urquhart Vancouver real estate agent since 1987 – Olympic Village specialist
Written by Don Urquhart Vancouver real estate agent since 1987 – Olympic Village Specialist