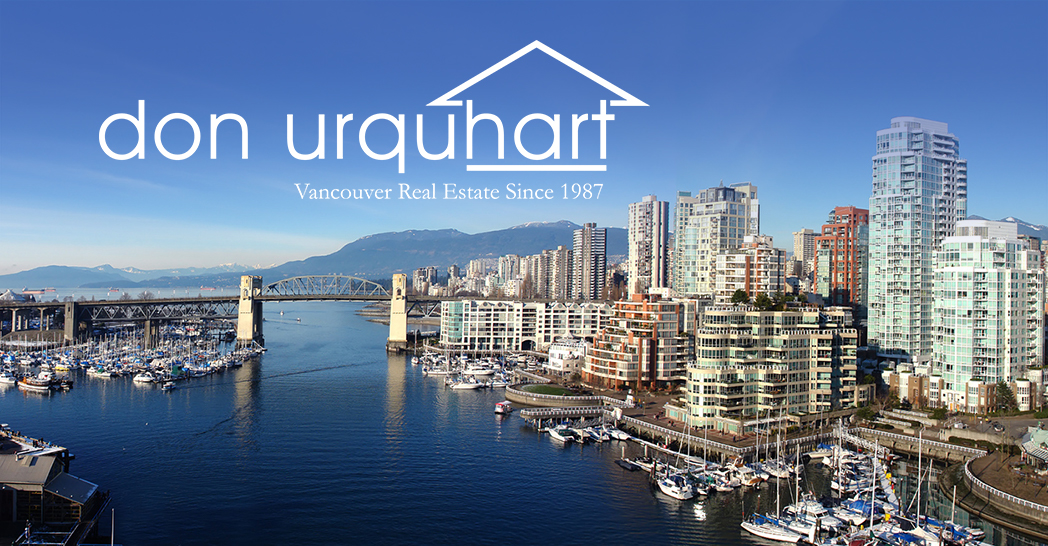 The Vancouver real estate market is moving at a slow pace and is currently a buyer's market for both condominiums and single family detached houses. Detached house prices in 2018 fell by approximately 10 to 25% depending on the location and price category. The condominium and townhouse market did not slow and become a buyers market till May 2018; by December 31st prices had fallen by close to 7%.
As we enter 2019 we can expect the Buyers' market to continue from the North Shore all the way to the Fraser Valley. More importantly, there is fairly good activity in the lower price ranges depending on the neighbourhood and type of housing. It is a buyer's market but good properties in well located neighbourhoods that are priced accurately are selling within 30 to 45 days. This is a great market for buyers to take their time and view many properties to find the perfect home. I have a client that was looking for a condo in the Downtown area and we were able to take our time over the month of December to view many properties. We found the perfect condo with an amazing view at a great price in a highly sought after concrete building.
This market can also favour Sellers' who want to sell and also purchase another property. Once the property has sold and it's time to find the next perfect home for sale, you can be assured that you will be able to view many properties for sale and secure the perfect home at a great price and terms.
The current real estate market has advantages when approached in a professional and informative manner.
The charts below show the most recent activity in our Vancouver real estate market.
(0 to 14% Buyers Market     15% to 20% Balanced Market     21% Sellers Market)
Vancouver Downtown Condos For Sale Statistics

The $300,000 to $700,000 price range states a Sellers market but today's Buyers are aware of the market correction and are only offering on well priced condominiums and townhouses in good locations and buildings. The overall activity is fairly good in the West End, Downtown, Yaletown and Coal Harbour neighborhoods and we should see this continue as we approach Spring as more buyers will be entering the market.
Vancouver West Side Houses For Sale Statistics

The Vancouver West Side houses for sale continues at its slow pace. There has been further price declines over the past 90 days and we can expect this slow pace to continue through the winter of 2019.
Vancouver West Side Condos and Townhouses For Sale Statistics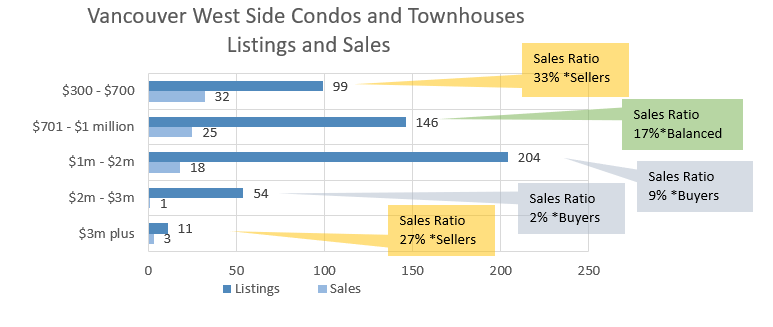 The Vancouver condominium and townhouse market on the West Side of Vancouver is active up to $1.7 million. Condominiums located in good buildings that are accurately priced are selling within 30 to 45 days. The days of multiple offers are gone and prices have edged off but this one of the busiest sectors of our market. High rents and low interest rates continue to make owning more attractive.
Vancouver East Side Houses For Sale Statistics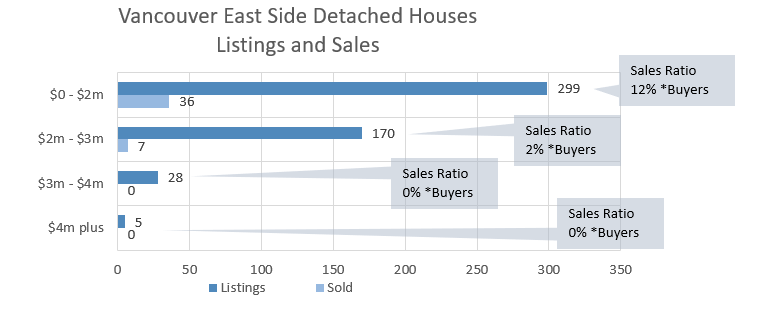 Vancouver East Side single family houses are selling at a slow pace and have been for the past six months. There continues to be a lack of good product; meaning that a good portion of the current supply is either priced too high and or in need of a lot of work. Today's buyer will not take the time to view an overpriced listing or one that needs a substantial repair.
Vancouver East Side Condos and Townhouses For Sale Statistics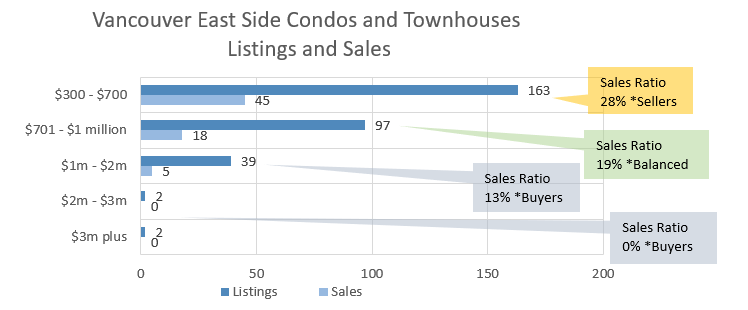 The Vancouver East Side condominium and townhouse market has slowed down from its blistering pace that peaked in May of 2018. There has been downward pressure on prices over the past 7 months but the declines are minimal in the lower price ranges. The half duplex market in Mount Pleasant, Main and Commercial Drive neighborhoods continue to be popular with today's buyers.
North Vancouver Houses For Sale Statistics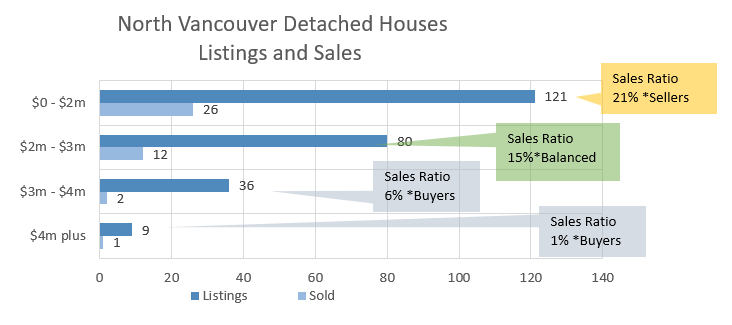 North Vancouver single family houses that are accurately priced and in sought after locations are selling within 60 days of being listed. There is downward pressure on prices but the activity remains good under $2 million.
West Vancouver Houses For Sale Statistics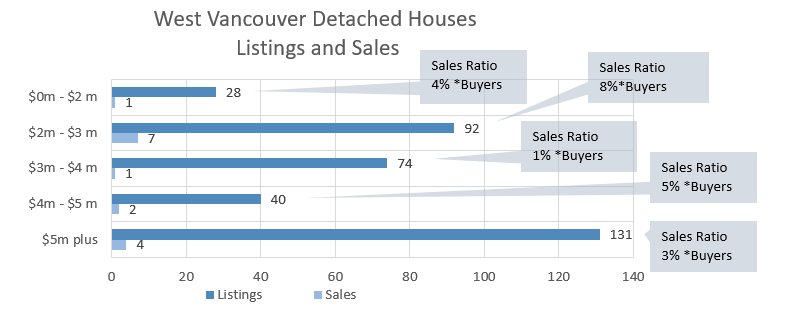 West Vancouver continues to be a very slow market when it comes to single family house sales. A lack of off shore investors and a weakening global market are just two of the contributing factors.
.
The months of December and January typically have slower activity for total number of sales.  As we move closer to March we should see the activity increase but remain a buyer's market. Please contact me if you have any questions or would like more specific information – I am always happy to hear from you.
Written by Don Urquhart
Vancouver houses for sale  East Vancouver houses for sale      East Vancouver condos for sale   Vancouver West Side condos for sale